Out with the old, in with the new,
May you be happy the whole year through!
Happy New Year! I hope 2016 brings you health, wealth, and great happiness.
Cheers to you, my loyal readers and fabulous visitors!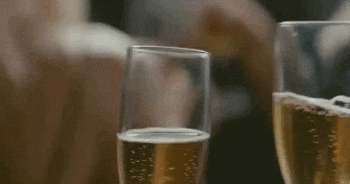 For me, 2015 was a year of excitement, challenge, celebration, stress, and, most of all, change and compromise. I
graduated law school
, celebrated
my broski's graduation
, planned a bitchin'
bridal shower
, celebrated
my sister's wedding
, was able to
review some products
here on the blog,
passed the bar exam
(twice) and became a lawyer, traveled to
Haiti
,
Cayman Islands
,
Jamaica
, and
Mexico
with my sweetheart, searched for the perfect job (still searching), and moved into a new apartment
in a state I don't really like
. Even though I have a lot of positive memories from 2015 that I will cherish, I honestly could
not
be happier to see 2015 come to an end. Is that bad? Maybe it was too much good? That being said, it's time to get back to the nails! Poppin' bottles, having fun, and making resolutions that you will never keep is what New Year's is all about, is it not? For my resolutions I made a
101 in 1001
list. For my nails, I did these:
For these I used Formula X Uncorked as a base with Formula X Glitz layered on top. I then stamped Formula X Dark Matter in Winstonia plate W117 for the champagne bottles, Winstonia W112 for the bubbles, and BundleMonster plate BM-220 and BM-216 for the year numbers.
This officially concludes the December Nail Art Challenge! To view all the December Nail Art Challenge posts,
click here
. The party isn't over though! Stay tuned for my annual
Best Of
post where I choose my favorite designs from the year and my Things for 2016 post discussing some more resolutions to do. Now, if you need me, I'll be over by the champagne!
HAVE A WONDERFUL NEW YEAR EVERYONE!