Now that Halloween is over and we are well on our way in the second week of November it is officially HOLIDAY SEASON and I guess it's time to start thinking about....gifts! To be honest, I already have all my family's gifts planned out so I already feel super accomplished. I'll be sure to avoid the holiday-crazed mall this year. In addition to my gift list for my nearest and dearest I like to keep a running wishlist of items so I can choose a holiday treat for myself, too. Is that totally selfish or just a tiny bit selfish? A girl has a right to treat herself to something nice once in a while, right?? Keep reading for my current wishlist! Who knows, maybe it will inspire a gift idea for someone you know!
"The Transport" Leather Tote by Madewell.
$168
I know, I am so late to this party. If you follow literally any amount of fashion bloggers or fashion instagrams you probably ran across this beauty at some point a long time ago. I'm a little slower on the draw and just recently found it. I really like the quality of the bag and I actually
really do
need a camel colored bag (all my bags are gray or black apparently). The price point is a bit higher than I would hope (which is why I have not yet made the decision to buy it) but it's not completely outrageous compared to other bags. *cough*Chanel Classic Flap*cough*
The Necole Pump from Mix No. 6 (DSW)
$34.98 (on sale!)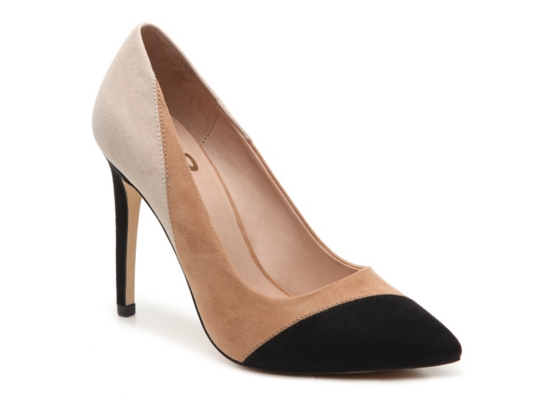 I must be in a brown/tan mood right now because the next item is also partly tan. I really like these pumps and I think I could get a lot of use out of them for work. How good would they look with black pants and a tan sweater with a long necklace? I have to admit though, I am the worst at buying shoes. I buy a bazillion pairs of black flats and wear the same five pairs of boots into the ground before replacing them. I always see cute pumps and heels when I shop online but I can never bring myself to actually add them to my cart. Why? I guess it's because I always think to myself
hmmm, maybe that's better in theory than actual practice
and I convince myself I will not wear them enough to make it worth it.
There are also a few
Pandora Charms
I have my eye on! ($50-$95)
In reality, I have two Pandora bracelets. However, one was given to me by my now husband and he had already filled it with some charms that made it like really nice so I don't add to that one because it would make it off balance. My second bracelet is the one that I'm building, although I only have like...four charms on it so it's a slow process. I really want to add one for the wedding this year and I like both of the options above. I like the "
Our Special Day Charm
" because it's a wedding dress with a similar neckline to mine. The "
Wedding Heart Charm
" is also super cute but I'm not sure I like that it says "just married" on it. Although we are just married now, this is a charm that will be around for a while--so I'm not sure I'll like the "just married" when we've been married 10 years. Who knows. My favorite one was the "Romantic Union" one which was two gold rings on a pillow but it looks like that one has been discontinued. Bummer!
Speaking of jewelry--the
Forward Y Necklace
from Swarovski ($129) is super cute too. I love a good long necklace! I also think it would look really nice with the bracelet my sister gave me for the wedding.
KitchenAid Mixer
($386.99 on sale!)
I'm sure this doesn't surprise you since I love to cook and to eat. We don't have one of these yet and I have been dying to buy one for so long! Perhaps this is the year!
And lastly,
nail polish
of course! I love OPI's Iceland collection and would love to pick up a few new polishes. I love
Reykjavik Has All the Hot Spots
,
Aurora Berry-alis
,
Icelanded a Bottle of OPI
, and
Turn on the Northern Lights
! They're all
Are there things on your wishlist??