You may remember my buddies Sarah and Alysia from
when they got engaged
, or
when Sarah asked me to be her Maid of Honor
, or maybe Sarah's
bridal shower
, or maybe even her bachelorette party. Either way, there has been a lot of Sarah's wedding on this blog recently! I am so psyched to say that they are officially
MARRIED
as of May 6, 2017!!
The ceremony took place at 4:30 PM on May 6, 2017, and it was outside in a park. It rained a bit during the morning while we were getting ready BUT the weather was perfect for the ceremony. They had a guitarist/instrumentalist play music while all of the guests were waiting and then also to play the processional for the bridal party.
The reception was at a local Moose Lodge that Alysia's father belongs to. The brides and their families decorated the whole venue themselves, including hanging tulle and twinkling lights from the ceiling, perfecting the table settings, and putting out all the lawn games, favors, and activities.
The day began at 8:20 AM when I had to run a last minute Maid of Honor errand. The girls had written each other letters to read while they were getting ready but Sarah forgot hers. I had to fetch it from Alysia. Then I met up with Sarah and her bridesmaids to head to the salon to get our hair and makeup done. Sarah had the cutest little wine glass tumblers for us as a thank you surprise.
This is a sneak peak I took after my hair and makeup was done (and the tumblers Sarah gave us):
Then we ran back to the hotel to get ready for the wedding. I helped Sarah into her dress, tied the corset (which is no walk in the park let me just tell you), put on her jewelry and off we went. The girls got ready at separate locations but we were all taking the same limo so we had to blindfold both brides so they wouldn't ruin the surprise. Obviously I took the time to sneak another selfie.
Then we did the whole walk-in-and-go-to-your-place thing. They took their blindfolds off shortly before walking down the aisle. How pretty are both of these girls?
By the way, LOL at Andrew photobombing two of these photos. Crackin' me up!
Also, not gonna lie...it's not the most attractive photo of me that I've seen.
The ceremony was absolutely beautiful. I held the rings, Sarah's bouquet, her vows, tissues, my Maid of Honor speech, and who knows what else. Thank goodness for being able to stow them in my cleavage.
Oh my god, originally Sarah and Alysia were on opposite sides (Sarah being closer to our side) but during the opening wine toast between the brides and their parents...Sarah's dad may have spilled some red wine ON ALYSIA'S DRESS! They switched sides so you wouldn't see it in the photos. Finally they made it through their vows (some tears were shed) and were pronounced Mrs. and Mrs.!
Then off they went to the reception!
The reception decorations looked like this:
These were some of the decor items: card/gift table, centerpiece, and they even decorated the hanging moose head (lol)...
As Maid of Honor I gave a toast. It talked about Sarah, when I met Alysia, and a quote that perfectly summed up their relationship. I won't give away too much but it ended with me saying this:
I am so honored to have stood by your side today.
I wish you all the best, every happiness you can imagine,
and I can't wait to see where your life journey takes you together.
I hope everyone will join me as I raise my glass and toast...to Mrs. and Mrs. (last name)!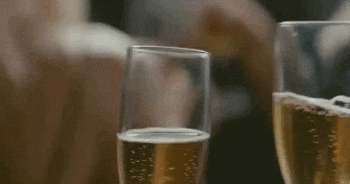 Later in the night, the girls cut the cake, which ended up in Alysia's face....
But seriously, how gorgeous is this cake? A friend of theirs made it!
And finally here's a shot of Andrew and I:
And the rest is history! We had so much fun at their wedding and I am so honored to have served twice now as a Maid of Honor.
Andrew and I have another wedding in June for one of Andrew's best friend's brothers. Obviously I'm not Maid of Honor for that wedding! But for real, being in a wedding and being Maid of Honor can be quite stressful (but fun!). It will be nice to just be a guest for the next wedding who gets to sit and enjoy the show!
Then after the June wedding it looks like mine is next! And then who knows, maybe my next friend who gets married will make me a Matron of Honor and three time MOH!
Phew time to sleep now! This was such a long post!